Why Chatbots are the Secret Ingredient
What is a chatbot?
A chatbot is a service that automates your interactions with your audience and customers. By using rules or even artificial intelligence to some degree, it lets you interact with your customers in a highly efficient manner.
The chatbot service is available in applications like Facebook Messenger, SMS, Slack, Skype, etc.
Why should you use a chatbot?
A chatbot can be used for many types of services including, but not limited to the following;
Weather bot. Get the weather whenever you ask.
Newsbot. You can receive an immediate update whenever something interesting happens.
Marketing. Send out updates on new blog posts to your audience.
Customer service. Efficiently automate your repetitive tasks.
Restaurant booking. Let customer reserve a table at your restaurant
Order food. Let your customers order food.
Example for an auto shop:
If you would like to test drive a BMW you would probably go to their website, browse around for a bit until you find the car of your choice.
If BMW had a bot, you could quickly both browse and schedule a test drive through Facebook Messenger.
Instead of browsing their website, they could guide your search through a series of questions and finally ask if you'd like a test drive of the given car.
If you at any time during your experience would need to talk to a real human, you could ask for it through Facebook Messenger. The customer service rep could then see your interaction with the bot to get up to date and help you move forward without the need for you to repeat your transaction.
Example for a restaurant:
If you are to book a table reservation on your favorite restaurant, you would need to go to their website, browse the menu and in turn book a table based on your preferred date and time.
If this restaurant had a bot, you could quickly show the menu, maybe some special offer, and take the user through the path to book a table.
Instead of browsing the website, and make a call to book a table, the bot could automate the entire process and in turn, freeing up staff to take care of the guest in the restaurant instead.
The customer could also get notified of updates, see her reservation, and so on. After their visit, they could even get messages to urge them to leave a review.
The automotive or restaurant examples are not unique. A bot could be applied to any type of service your business provides.
So why should you consider using chatbots?
First of all; getting this experience through your website is hard. Using a dedicated app for this purpose is also hard because a user has to download it from the app store on her iPhone or Android device.
According to BI Intelligence , there are 2,5 billion monthly active users across different chat services like Whatsapp, Facebook Messenger, WeChat and Viber.
"In the US, the average Android user spends just under 40 minutes a day on Facebook Messenger. And as far back as 2015, the average user spent over four times longer in chat apps than in other types of apps — a figure that's likely increased as chat apps have become even more popular. What's more, over 50% of millennials prefer to be contacted via such an app, making them extremely efficient at reaching and engaging large swaths of people.
Sixty-one percent of European consumers would use a messaging app to ask customer service questions; 46% would do so to access exclusive deals, offers, and promotions; and roughly a quarter would respond to ads or ask for updates via chat. These figures likely carry over to similar markets, like the US." – BI Intelligence
In the first half year of 2015 the top four chat apps — WhatsApp, Messenger, WeChat, and Viber — now reach roughly 3 billion users globally, narrowly outstripping the top four social networks – Facebook, Instagram, Twitter and Snapchat.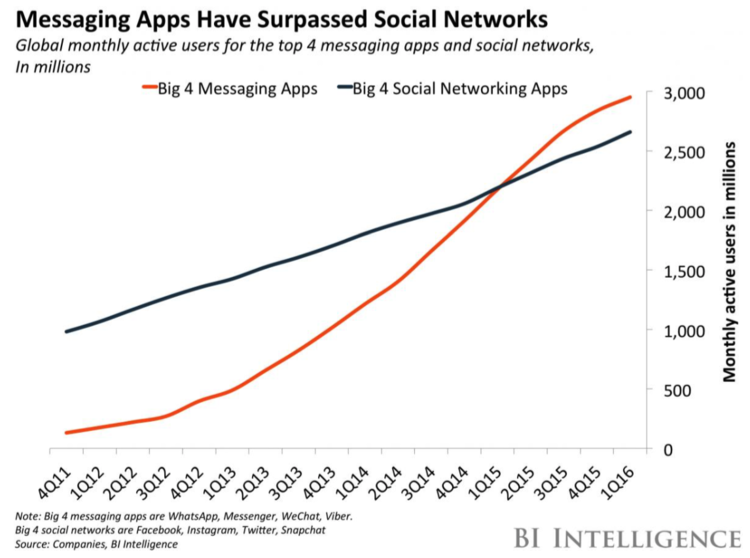 That's HUGE!
How can you get started?
Building a chatbot is not that technical, but more an issue of user experience. The most successful bots will be the ones that users want to come back to regularly and provides real value for the user.
Bots are cheaper and faster to build than apps, which is why it's an excellent opportunity to get started and start testing with your customers. Because bots access all their data from the cloud, users can access them without downloading any software, e.g. Facebook Messenger.
If you're setting out to build your bot, you should start with what type of problem your bot should solve. Then choose the platform that your customers are using, e.g. Facebook Messenger or Slack.
Have any questions or would like to discuss anything with us? Please leave a comment below :)