This is what you need to know about omnichannel customer support
Create a seamless customer experience to boost your revenue.
Has this happened to you?
You emailed a company with a customer support question, typing in a 10-paragraph message explaining the issue in detail. In response, you just got an automated reply from a robot saying that the company will get back to you in 24 - 48 hours, and you decided that you didn't want to wait that long.
You pop onto their website and found that nifty Live Chat button. After entering your name and email address, you launched a chat with an agent and then had to re-tell your 10-paragraph story in full.
But it turned out the best way to resolve this issue was to take a call with a technician so you picked up the phone.
After listening to soul-draining "hold music" for what felt like forever, you finally reached an agent and realized that you had to tell that 10-paragraph story all over again. Then the agent needed to transfer you to his supervisor and….you can see where this is going, can't you?
This company would be lucky if you stayed as a customer.
Unfortunately, this isn't an uncommon scenario. Many brands are struggling to deliver a seamless customer support experience and their inability to do so is hurting their businesses.
CUSTOMER EXPERIENCE WILL BECOME THE KEY BRAND DIFFERENTIATOR
According to a recent study, customer experience (CX) will overtake product and price as the key differentiator by 2020.
Without a seamless CX, which is increasingly expected by buyers, you could risk losing customers to your competitors.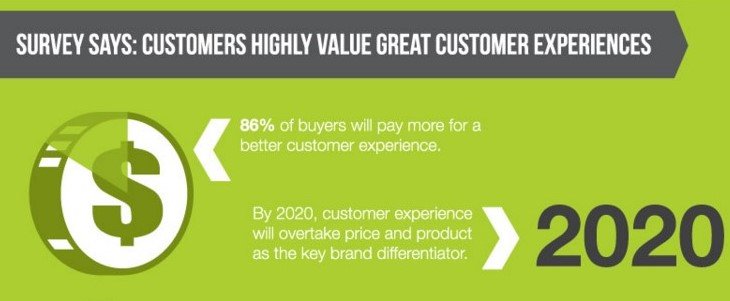 Customer support plays an important role in delivering a seamless CX.
It can help address concerns and objections during pre-sale to increase conversion rate and improve customer satisfaction post-sale to boost loyalty, retention, and customer lifetime value.
THE BIGGEST CHALLENGE IN DELIVERING A SEAMLESS CUSTOMER CARE EXPERIENCE
Many companies structure their customer support systems around their internal operations, resulting in different departments handling communications via different channels, such as phone calls, emails, chat, and so on.
The siloed approach may be necessary due to the skillsets of employees or the fact that the various systems were implemented at different times using a number of providers (e.g., Cisco for voice, Outlook for mail, Drift for live chat.)
However, without a unified system, the customer experience is fragmented and frustrating, causing these companies to lose new businesses and existing customers.
In addition, if dissatisfied customers share their poor experience with others (e.g., word-of-mouth, social media,) the reputation of the brand could be tarnished.

OMNICHANNEL CUSTOMER SUPPORT: THE KEY TO A SEAMLESS CUSTOMER EXPERIENCE
Customers are now demanding better and more responsive services from brands.
A survey found that 64% of participants expect to receive real-time customer service, regardless of channel, while 78% take a company's customer service into account when making purchasing decisions.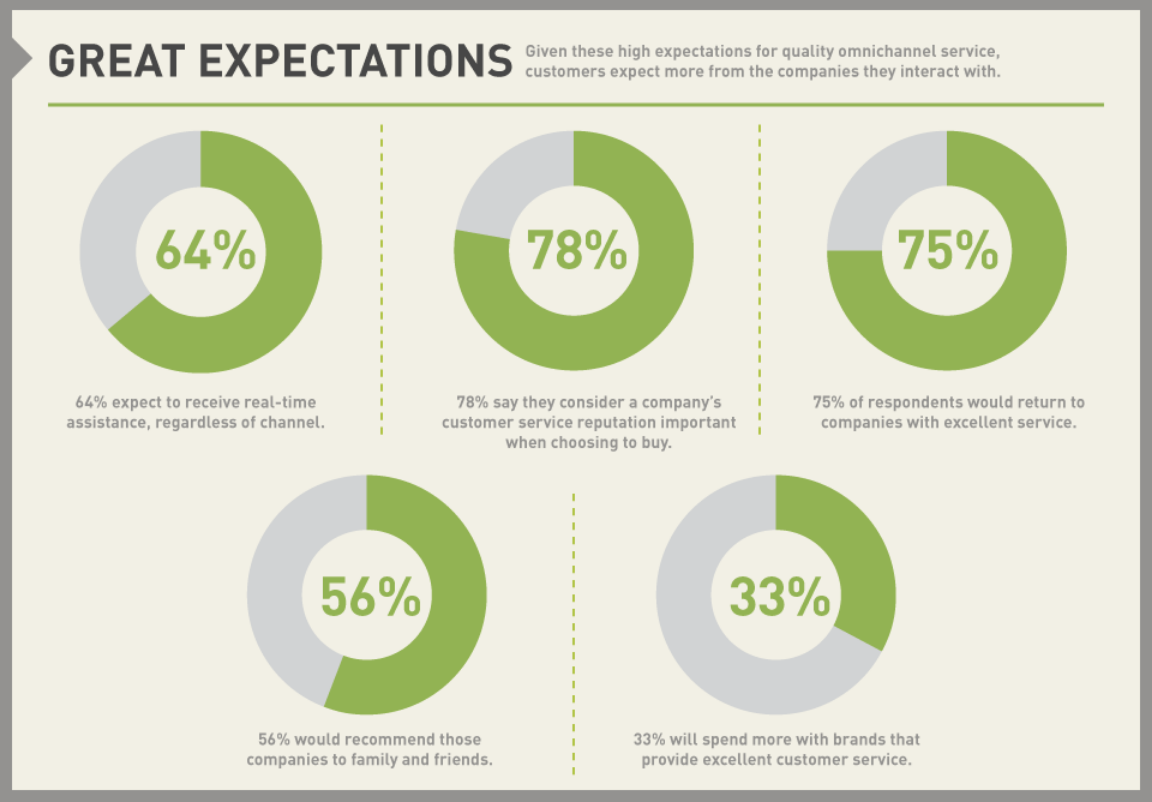 Implementing an omnichannel customer support strategy is the key to improving customer support, so you can meet these expectations and make more sales.
Here's what you can to do to up your customer service game:
Provide prompt response on social media
Social media has become a major channel through which customers interact with brands.
One study found that 42% of customers expect companies to respond to direct messages or social media mentions within 60 minutes.
You need to have team members monitoring the company's social media accounts at all times and/or set realistic expectation for turnaround time during off hours.
If you can't offer a resolution within 60 minutes, you should acknowledge the queries and let customers know what they can expect.
Remember too that agents responding to social media messages or mentions should have insights into the entire history of each customer's interaction with the brand so they can provide prompt and succinct responses as customers would expect on social media.
Ensure customer service channels are mobile friendly
Customers want to get support whenever and wherever, and increasingly, they're using mobile devices to get the assistance they need.
Make sure all your customer support channels and resources are optimized for mobile:
Add tap-to-call button to your mobile site.
Ensure FAQ, knowledge base, and self-support videos are mobile-friendly.
Display options to contact customer service prominently in a non-intrusive way.
Make sure all mobile-based customer inquiries are tracked in real-time and integrated with your customer database.
Hire the right people for customer care
Your support channels are critical touch points through which customers interact with and form an impression of your brand.
Your customer support team needs to deliver a consistent and outstanding brand experience to your customers across all channels during these interactions.
Make sure to hire customer care representatives who understand your company culture and values, then train them to interact with customers in a way that reflects your brand voice.
In addition, everyone in the company should exercise empathy when interacting with customers. Craft your CX from the customers' perspective and build your process around customers' expectations.
Implement a centralized customer support system
Let's go back to the scenario at the beginning of this post.
No matter how quickly and on-brand your team responds to inquiries, if you can't pick up where customers leave off as they switch channels, you'll cause a lot of frustrations that can negatively impact your relationships with them.
The key to delivering a seamless CX is to make sure your customer service team has access to information pertaining to all customer interactions - such as emails, social media, chat, phone calls, SMS, and messages - all in one place so any agent can represent your brand seamlessly across all channels.
Using a platform that empowers you to not only handle all customer interactions in one centralized location but also helps you organize a large volume of inquiries without missing a beat is essential in meeting today's customer expectations.
TAKE YOUR CUSTOMER SUPPORT TO THE NEXT LEVEL
Delivering a responsive and seamless customer support experience isn't always easy.
Even with a centralized customer database that records all the customer interactions, you need to make sure responses are provided in a timely manner and resources are assigned appropriately.
These can all be handled seamlessly and efficiently when you have an omnichannel customer care system that uses machine learning to handle workflow and direct your resources.
Omnicus is built with your customers' happiness in mind to help you provide the level of support that will win new customers, improve retention, and cultivate loyalty.
Start your free trial to see how we can take your customer experience to the next level.
Sources: