Kustomer Pricing: Here's what you need to know
Before purchasing your customer service software, I recommend always scheduling a demo with customer success to let them show you how you can reach your full potential and the goals you've set for your customer success team.
Also, when looking at different price tiers, keep in mind that as your needs evolve, pricing change quite a bit if you're on the Kustomer platform.
Let's dive in!
The Kustomer Platform
Kustomer might not be the right choice if you have simple needs and don't have a dedicated team to handle your customer service request. However, it's worth considering if you need a better alternative to Zendesk, Salesforce, Freshdesk, and the like.
Kustomer unifies data from all channels to provide a holistic view of your customer journey and aims to give you a true omnichannel solution.
Kustomer pricing plans
On the surface, Kustomer offers a simple price plan: Enterprise and Ultimate. However, when we dig a bit, you'll probably end up with a different price than the entry models below.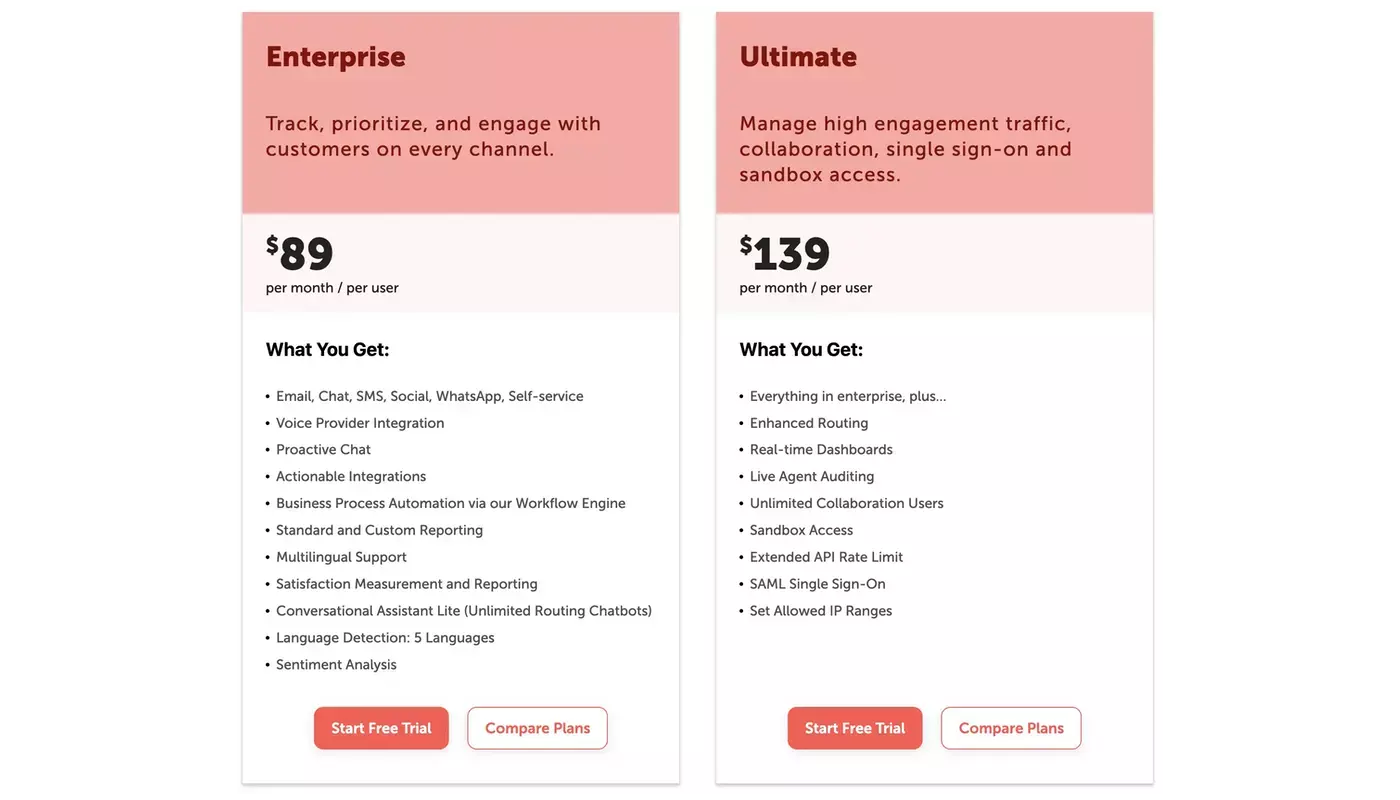 Also, remember that all pricing plans include one-year contracts, annual payments, and a 4-seat minimum.
Enterprise
Price: $89 per month / per user.
What's included;
Email, Chat, SMS, Social, WhatsApp, Self-service
Voice Provider Integration
Proactive Chat
Actionable Integrations
Business Process Automation via our Workflow Engine
Standard and Custom Reporting
Multilingual Support
Satisfaction Measurement and Reporting
Conversational Assistant Lite (Unlimited Routing Chatbots)
Language Detection: 5 Languages
Sentiment Analysis
Ultimate
Price: $139 per month / per user.
What's included;
Everything in enterprise, plus…
Enhanced Routing
Real-time Dashboards
Live Agent Auditing
Unlimited Collaboration Users
Sandbox Access
Extended API Rate Limit
SAML Single Sign-On
Set Allowed IP Ranges
Things to note
There are several add-ons available to Kustomer. Some are volume-based pricing, and others are licenses on top of the Enterprise and Ultimate price plan, which can be costly if you're not planning for the investment.
The add-ons;
Kustomer IQ: priced based on volume and an addition of $20 per month / per user
Increase API usage: $25 per month / per use
SAML Single Sign-On: $10 per month / per user
Conversation Classification: $10 per month / per user
Amazon connect (voice): $49 per month / per user
Price example
If you're looking for a true omnichannel contact center – with the basics you'll need – including all touchpoints, live reporting, automation, etc., you'll have the following setup with Kustomer:
Enterprise plan: $139 per month / per user.
Kustomer IQ: $20 per month / per user
Amazon Connect: $49 per month / per user
Increased API usage: $25 per month / per use
Total: $233 per month / per user
Integrations
Kustomer offers several integrations and third-party apps grouped into six different categories:
Channel
Chatbots + AI
Data + Analytics
eCommerce
Productivity
Reviews + Surveys
Remember that Kustomer will charge additional fees for these integrations and third-party apps.
Too complex? Confused?
It might feel a bit overwhelming. We know.
Although Kustomer might provide all the bells and whistles, you probably won't use them all.
Still, you'll need parts of them, which is a pricy option for your contact center, especially when you have an alternative to Kustomer.
Meet Omnicus: A True Omnichannel Contact Center Platform
If you're looking for a partner to help you reach your goals – without a big budget surprise – Omnicus is the right choice.
Our platform has a price where every feature is available at every tier.
Here are what makes Omnicus a better choice than Kustomer for you:
Guided setup: You'll be assigned a customer success rep to help you get started and reach your goals.
True omnichannel: The contact center and every single touchpoint is joined together. Your agents will effortlessly move between channels, while your customers will not even notice a 1% change in service quality across platforms.
Ticket Management: search, assign, reply and resolve tickets. Add classification to your tickets to enrich your reports and improve your customer service experience.
Speech-Enabled IVR: Allow customers to state their demands in plain language to the system without using a touch-tone menu. Let us help you build a self-service IVR system that wows your customers.
A telephone in your browser: No need for an external phone system. Simply plug in your headset to your computer and start answering calls!
Omnichannel smart-routing: Your customer can connect with you on any channel, and Omnicus will recognize that customer and route them to the best agent or support team.
Dashboard and Reports: With a single dashboard, access information in real-time and historical metrics across every channel and customer service requests.
Contact Center AI: Provide your customers an even better service with AI that talks, understands, and interacts.
Interested in exploring how Omnicus can help you reach your goals? Book a demo with us today!